M
emories of
M
y
T
own
W
ritten
2010
B
y
A. D
awn
O
rrock
Salina is a small town located in the middle of the state of Utah. downtown area consists of one street with businesses on both sides. remember the bank on the
northeast corner of the street. is one of the few banks in the United States that did not close its doors during the big "Crash" of the '30's. I learned that as a girl, I
had great respect for the bank's president, Mr. Crandall.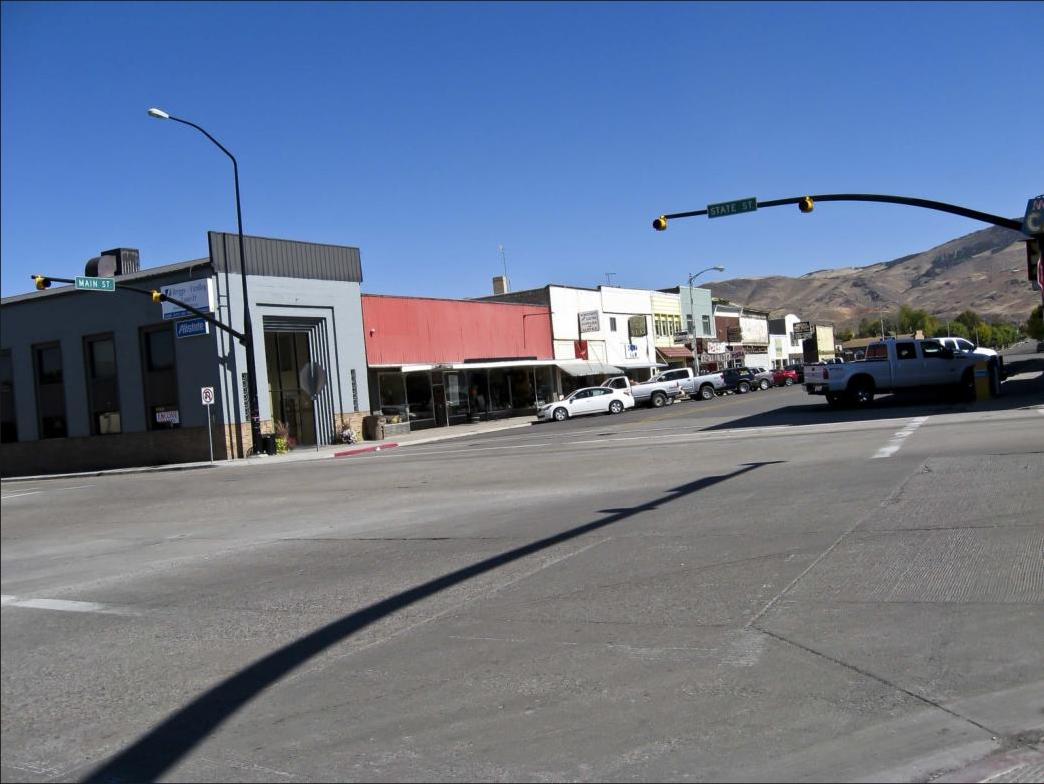 This picture was taken looking east on Main Street. Christensen's store was east of the bank, which was on the corner.
Next to the bank was Christensen's clothing store. As a side note, there were also Christensen's stores in Richfield and Ephraim. When Scott was a teenager, he
worked in the Richfield store. The owner of the stores lived across from the Richfield Park, not too far from Scott's home. He wanted Scott to go to school and
come back to Richfield to be a manager for one of his stores. The owner was Scott's bishop, and he was the one who encouraged Scott to go on a mission after
Scott came back from the army. This good man helped support Scott on his mission. Christensen's was the only clothing store we had in town. We could also buy
shoes, etc., in the store. I believe most of our clothing was ordered through Sears and Roebuck or Montgomery Ward catalogs (probably cheaper), so my memories
are scarce involving Christensen's store. I do remember Daddy taking me into the store to buy a pair of shoes. Right off, I saw a pair of red shoes! How beautiful
they were! I could look as pretty as my friend Jewel, if I had them. I asked, I whined, I didn't really think my dad would let me have them. He didn't. A nice
brown pair is what I got. The coat is the other memory. I tried on what seemed to be all the coats my size, but the sleeves were too short for my long arms. The
only thing I can think of now is that most of the people in our town were short. That has to be the answer. I have no memory as to how that was solved.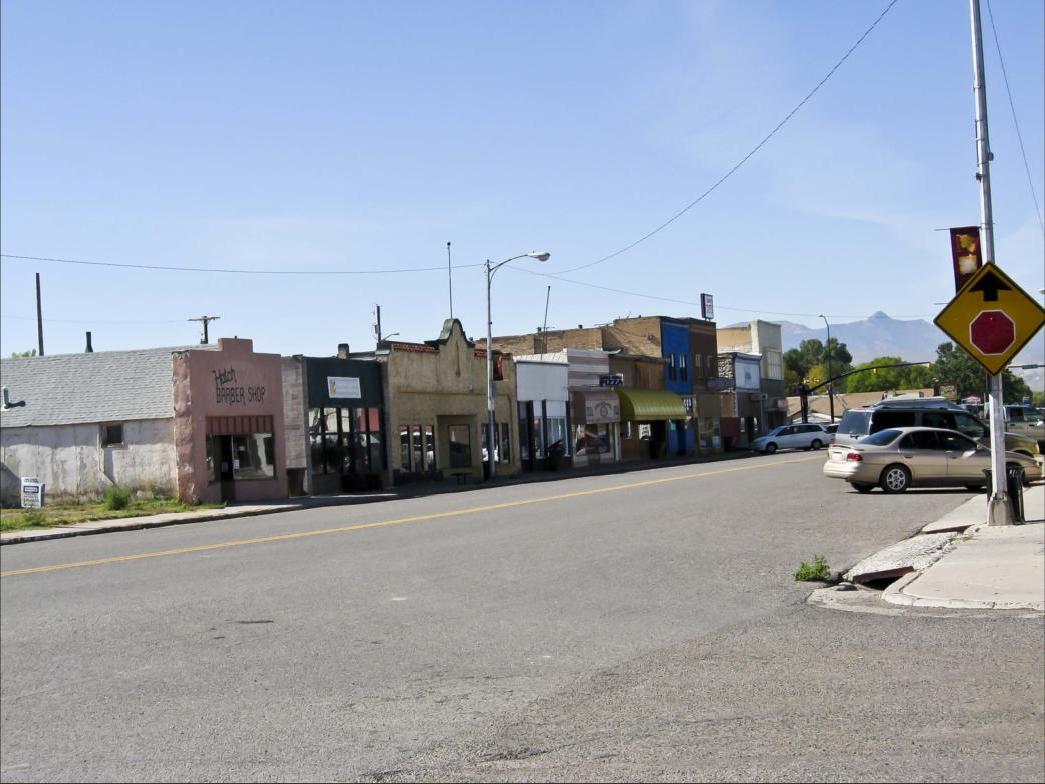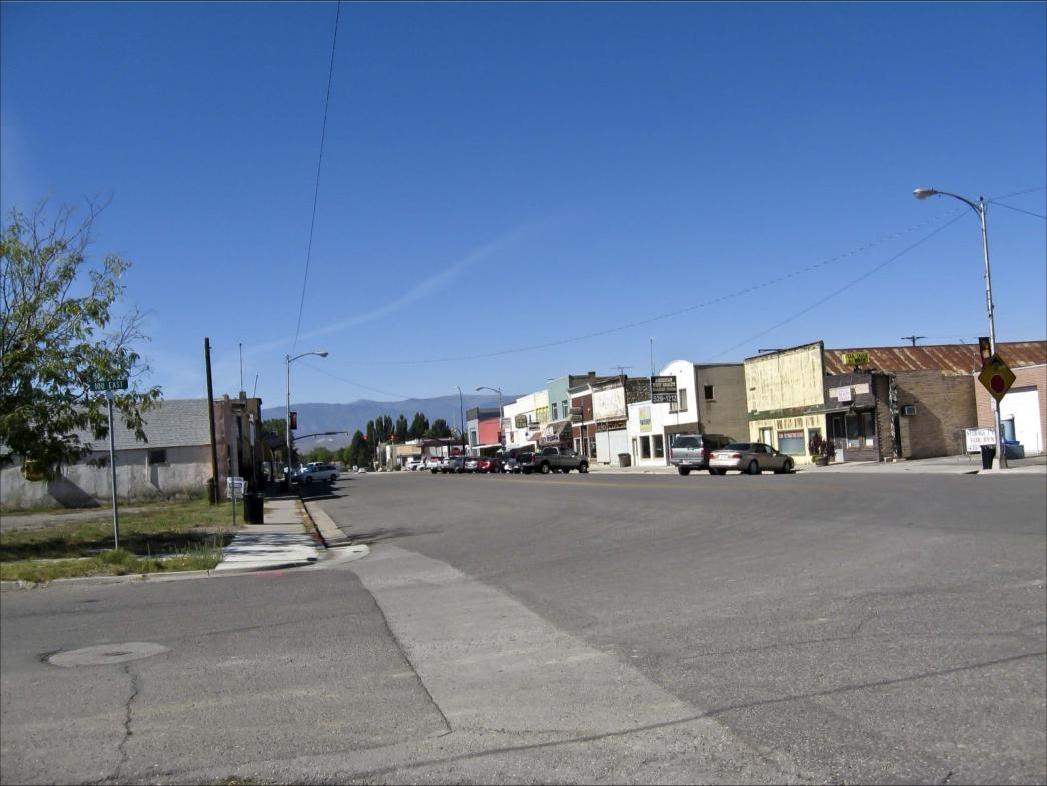 On that same side of the block was the drugstore. I loved going in there. It had an open, happy feeling. As teenagers, we would sit up to the bar stools,
chattering with friends and ordering ice cream or malts. This was also the store where I would buy my piano music. (I have saved that piano music in a box.) I
would get so excited to walk into the drugstore, turn to my right and go to the sheet music hanging on the rack. I would then hurry home and play that "new"
piece of music. Happy, happy thought!
The bakery was also on the north side of the street. Sometimes Mother would send me or Jean, or both, to the bakery to buy yeast cakes to make bread. The
cost was about three cents each. Jean had a weird liking for yeast cakes. She would sometimes eat half of a yeast cake before she got it home. I can't imagine
how Mother made her bread unless she sent her back again with three more cents. Every penny counted in our house. I loved the smell of the bakery, and it was a
real treat if Mother would let us buy bakery bread! Now, I would love to have one of my mother's delicious hot loaves of bread right out of her oven.
When I was little, Barrett's grocery market was on the north side of the street; when Jean was young, it was on the south side. Jean remembers wandering away
and going to the grocery store. She couldn't have been much more than five years old. The grocery store clerk gave her a sack full of candy (for some odd
reason). She then, with her sack full of candy, went next door to the post office. Our Uncle Oscar was the postmaster. Uncle Oscar had to wait until he finished
his work before he could take Jean back from whence she came. We were not living in Salina at the time. We moved into town from King's Ranch when Jean was
six years old and I was two. Did she come from Grandpa's home or Aunt Alvilda's and Uncle Oscar's home? A mystery. What a "sweet" mystery!
Next to the grocery store was a mechanic's garage, and next to that was an empty lot.
That was the end of the street.
On the other side of the street, across from the bank, was Mom's Café. (We ate there on Memorial Day of 2009. It is old, old, but still serves decent food.) We
never ate there as a family. I didn't eat at Mom's Café until I was a teenager on a date. However, for her 11th birthday gift, Jean asked to have money to go to
Mom's Café and have lunch all alone! No one else could afford to go with her. I was dumbfounded that as a child, she would have the courage to do such a thing!
East from Mom's Café was a business and then the movie theatre. They showed a matinee every Sunday afternoon. Many of the parents in the town tried to have
them show the matinees on Saturday, but to no avail. Buck Rogers and our other heroes' serials continued to be shown on Sunday afternoon with a movie, such as
Lassie. The habit of the young people in town was to go to Sunday School in the morning, the matinee in the afternoon and back to Church again that evening.
Looking west down Main Street in Salina
S
ame as above but taken from the south side of Main Street, looking toward the west
Dad and Mother, all dressed up
My father, Al (as he was known) Anderson, belonged to the American Legion. They are veterans who serve at the internment part of a funeral, honoring someone
who has been in the military. Their guns fire off the salute. They then present a family member with the flag. The Auxiliary Legion is the women's organization.
My mother, Venice, was the president of the Auxiliary in Salina at one time. Where am I leading you? Right to the barbershop.
The barbershop was east of the theatre. It was where I got my haircuts when I was small. I loved the feel of the soft brush against my neck and under my collar
when the barber finished. I didn't like that my mother would have my hair cut. I wanted ringlets like my friend, Betty Lee. At the back of the barbershop was a
fairly large room where the Auxiliary women would meet to make quilts or do other kinds of service. When I needed something from my mother and knew she was
there, I would quietly walk past barbershop customers and slip through the door into that big room. Seeing my mother among the other women, I would quickly go
up to her and whisper my needs. Before Memorial Day, the women would make paper poppies to sell. I remember having that "holiday" feel when I would see
them working. They all seemed so happy. They must have sold the poppies to earn money for some good deed.
At this point, I am inserting a problem regarding Jean's and my memories. We are disagreeing on where the pool hall was located. I remember it as being on the
south side of the main street. Jean remembers it as being on the north side. We have no one left in Salina to call, so we are going to have to solve this problem
ourselves. I am leaving tomorrow afternoon (Tuesday, October 12, 2010) to drive down to Manti. On Wednesday, we will drive to Salina and have lunch at Mom's
Café, where we will either physically see where the pool hall is or inquire from older citizens were it was. I can't wait. I'M SURE I'M RIGHT!!! (Hope I don't eat
these words.)
Jean and I drove to our dear old town, Salina. We took pictures of the town and then went into Mom's Café. We had a dish of ice cream and visited with a
waitress who had been born and raised in Salina. She was 65 years old. What a find! She told us where stores had been and how they had moved from one side
of the street to the other. She verified that the market had moved from the south side to the north. There had actually been TWO POOL HALLS! One had been,
for a short time, on the north, but according to my memory, it had been on the south side!! Jean never returned to live in Salina after she was 15 years old. I
had moved but returned at the age of 14 for two years. Our memories finally made sense!
The movie theatre is gone. There is nothing but a boarded up, empty lot. So sad. The whole downtown looks so old.
I have to finish writing about our wonderful day, delving back, back over 70 years! We found our old church. It is still standing but has been converted into an
apartment building. Two new schools have been built, our old school long gone. In the past we always drove around the east side of town, which contained our
home and old haunts. This day we drove towards the west, and much to our amazement, on the west side of town were big, beautiful homes with lovely yards,
new streets, gardens and businesses. We were dumbfounded! This was not our old hometown. People have moved into the fields and empty spaces. Recognizing
that things have changed, next time we might stick to our east side of town.
My question is, why is the downtown looking so old with all these new beautiful homes? I don't get it! This is the end of this wonderful day.
I do remember a small store on the south side of the street that had material, thread and buttons. I guess you would call it a "notions" store. I think I only went
in there once. Mother didn't sew, even though she had an old Singer treadle sewing machine. She probably did some mending. I remember feeling small, and I
was fascinated being in a store I had never entered before.
Across the street from the bank was a service station. Hamburgers were sold there with bottled drinks. Ah, the wonderful candy counter! I emphasize that
because we would always get our candy there before we went to the movies. I would stand in front of the counter, which held behind its glass window Mars bars,
Hershey bars and other kinds of candy costing five cents each. Mostly, we had pennies for candy. The penny candy was held in jars on top of the counter. I always
had a hard time deciding what my pennies should buy. One day I had a whole dime to spend. The clerk gave me a lovely, white sack filled to the brim with candy,
and off to the movies I went! Having had experiences like that, the joys of being poor come through.
When I first became aware of how much things cost, movies were ten cents. They climbed to 15 cents and finally to a quarter!!
One Fourth of July, my father gave me a silver dollar! I remember meeting him on the street downtown. (Usually we got a quarter, which we considered Great!)
Daddy had been involved with the parade that year and must have been happy with how it went. Wow! I was rich!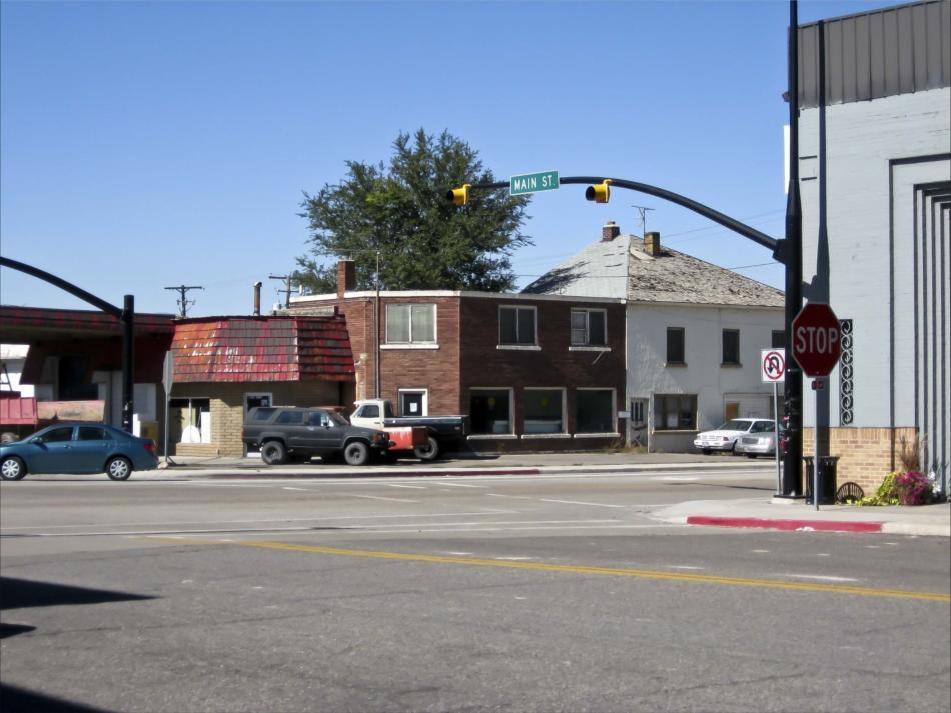 This red brick building was where we used to buy our candy for the movies.
Across the street and west from Mom's Café was, and still is, Burr's Saddle Shop. Horses have always been an important part of Salina.
The other business I remember, but can't remember where it was located, was the shoe shop. I do remember one day my dad dropping me off at the shop. I had
to take off my old brown pair of shoes. A large hole had developed in the sole and they needed to be repaired. I sat on a bench, waiting for Mr. Nielson (the
shoemaker) to repair my shoes. I was very uncomfortable and anxious for my dad to come back. Mr. Nielson must not have talked to me at all. (Another side
note: For those who remember Gifford Nielson, Mr. Nielsen was his grandfather, who later became a bishop of one of the wards in Salina.) At home, we would
usually find some cardboard and cut it out to fit in the hole of the shoe. This would help our shoes to last a little longer. Our shoes were pretty well worn by the
time we got new ones. When we would get them wet, while walking in the snow or rainstorms, we would get newspaper and stuff it in the toes of the shoes so
they would keep their shape, as they dried on the warm oven door. We always got a new white pair of shoes on the Fourth of July, but that pair was our Sunday
School shoes and would have to last us until the next Fourth of July. Daddy would get out the shoe polish on a Sunday morning and polish our shoes before we
went to Sunday School. I hated the smell and would put my feet as far under the bench as I could reach, so people around me wouldn't know that awful polish
smell was coming from me.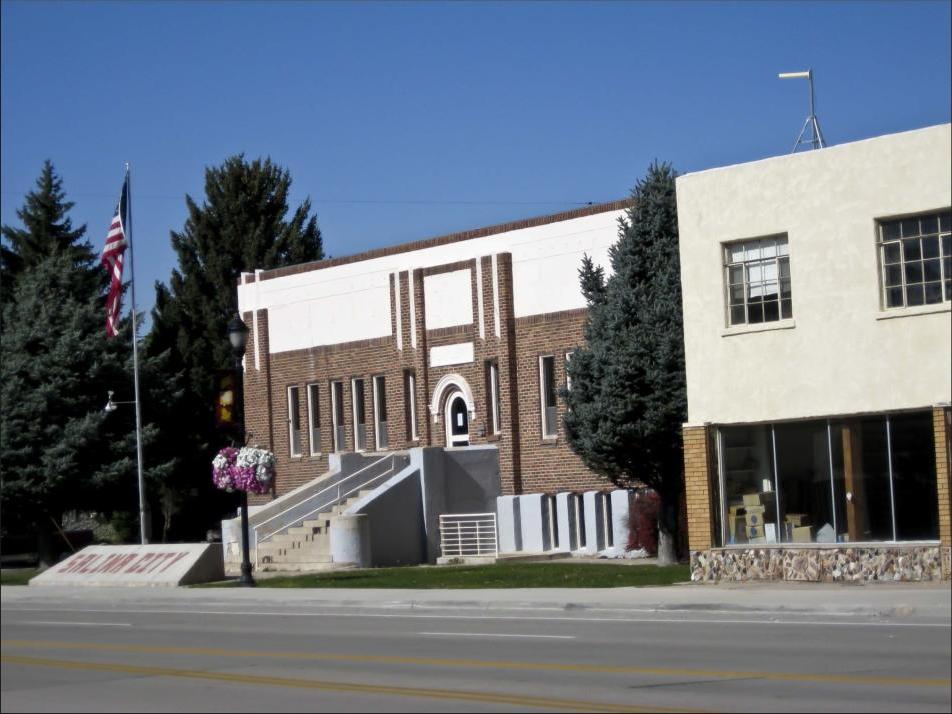 The public library
T
he public library was located about a block east of the service station on Highway 89 on the north side of our main street. My memories of Salina are limited as
far as the public library is concerned. I only remember quietly going in the big front door and seeing Miss Steina sitting behind the desk. She was the librarian at
that time. She looked so stern that my happiness at being in a building with wonderful books was squelched. She had been my dad's teacher. Later, she was the
principle of the high school when Jean was attending school. Jean loved this woman. She was also the mayor of the town and my Aunt Alvilda's sister. Aunt
Alvilda was married to Uncle Oscar, my father's brother. To go further in depth, Mrs. Steina and Aunt Alvilda had an uncle, a wealthy cattleman, who wanted my
dad to marry one of his daughters. Dad was offered half of all that wealthy man owned if he would marry her! He didn't! Whew!
The hospital where Jean and I were born is located west on Highway 89. My mother was asked to come to Salina from Provo to be a nurse in the hospital. I do
remember being there when Scott and I had been in an accident. I was 16 years old. I was sewn up by the doctor and sent home. The hospital is now a Senior
Center.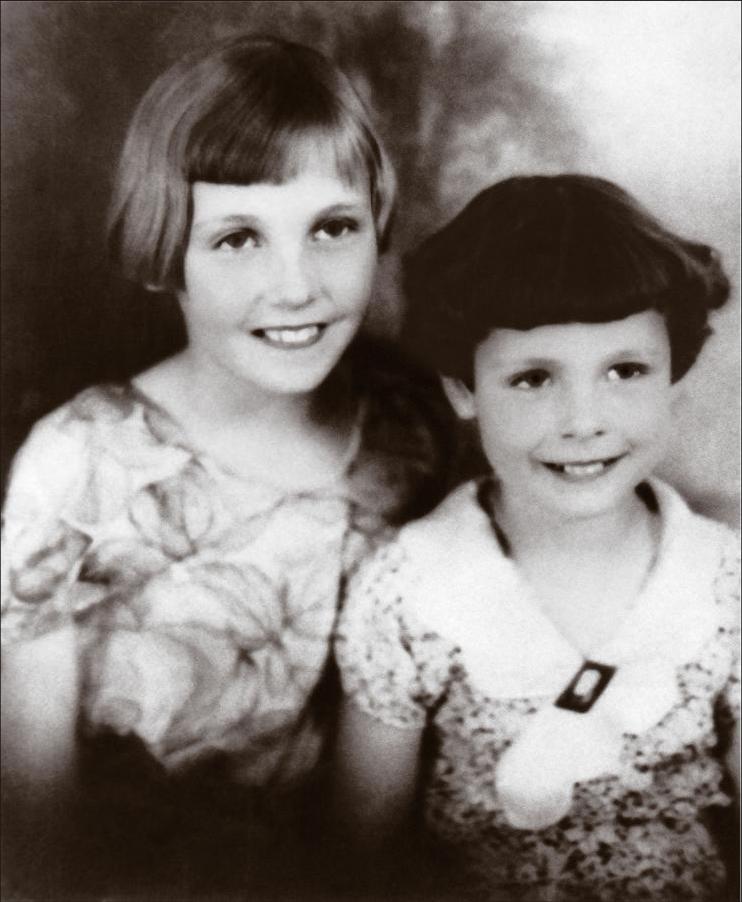 Jean and I
Mother never knew what to do with our hair, so she just had it cut short.